School Meals
At Glenfield we pride ourselves on the quality of the school lunches we provide.
Our school catering company is called Dolce School Catering and they have dedicated staff that cook our meals on site in our fully equipped school kitchen. Menus are designed to conform with current food health and nutrition standards set the Government and are changed every term to reflect seasonal changes in produce and offer both a meat and vegetarian option each day.
When your child starts school at Glenfield, the office will add you to the School Grid system, you will then receive an email with a link to take you to your new account. Your child will already be added to your profile. Parents will need to log in and order their child's school meal in advance. It is possible parents to order up to half a term in advance but the cut off time for any orders is 8:50am on the day lunch will be eaten. Don't worry if you have ordered a meal and your child has changed their mind, log in to School Grid and make the change, before the cut off of 8:50am on the day.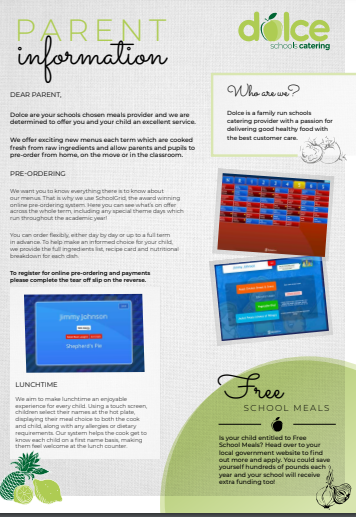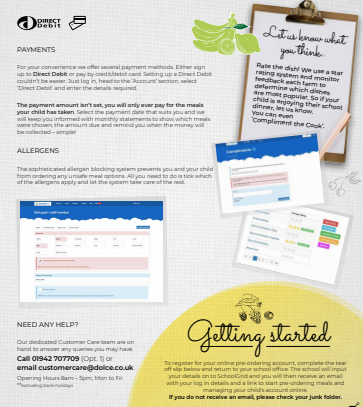 From September 2014 all reception, Year 1 & 2 pupils became entitled to a free school meal under a government initiative called Universal Free School Meals (UIFSM) and this could represent an annual saving of approximately £400 per child if your child ate a school meal every day.
Families that qualify for certain benefits or are on a low income and do not receive working tax credits still qualify for additional funding called Pupil Premium (see our Pupil Premium Funding Reports for a further explanation and details of how this funding is spent in school). This was previously 'free school meals' is different to Universal Free School Meals.
You can test your eligibility by entering your details at here
Please see our sample menu below.